PPM Quotes - Customer Portal
19 Oct 2021

1 Minute to read
PPM Quotes - Customer Portal
Updated on 19 Oct 2021

1 Minute to read
---
Share feedback
Thanks for sharing your feedback!
Introduction
When a new PPM Quote is created and sent, the new quote can be instantly viewed, and approved by the customer via the Customer Portal.
---
A new 'PPM Quotes' option has been added to the PPM dropdown menu at the top of the homepage, which when clicked upon, will direct the user to the list of PPM Contracts and Quotes assigned against the relevant customer/site.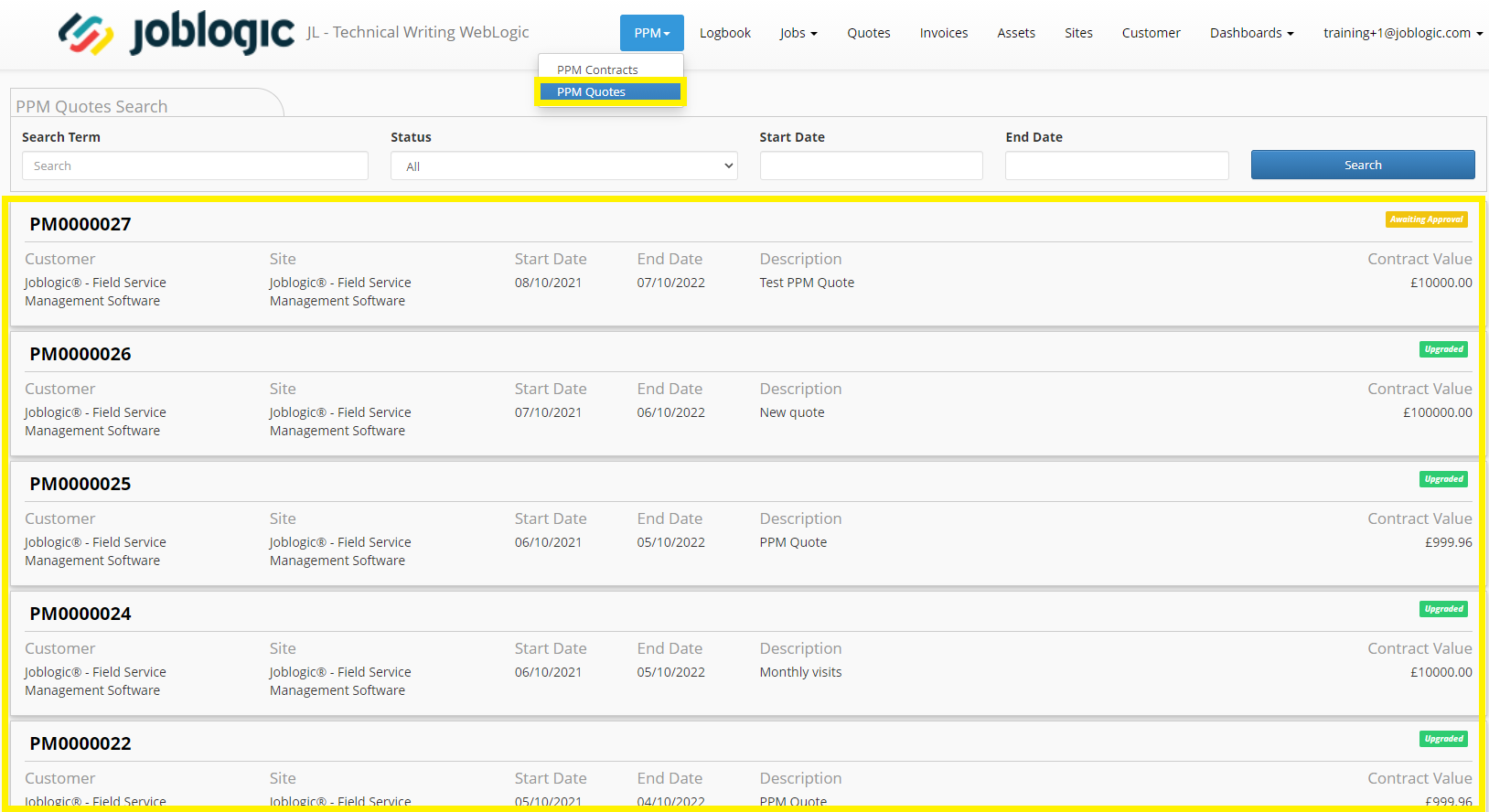 ---
The search filter at the top of the page can be used to search PPM contracts using details such as the Customer/Site name, Contract Status, Contract start and end dates.

In order to view and approve/reject a PPM Quote, simply click the PM number of the PPM Quote that is awaiting approval, which will direct you to the main PPM Quote Details page.
The PPM Quote Details page consists of all the information relevant to the contract, such as the Customer and Site Details, Contract Start and End Dates, Contract Value, Selling Rates, Total Invoice Billing, Total Visits, Attachments and Notes.
Any Additional Attachments or Notes can be added by clicking the relevant 'Attach' and 'More Detail…' buttons.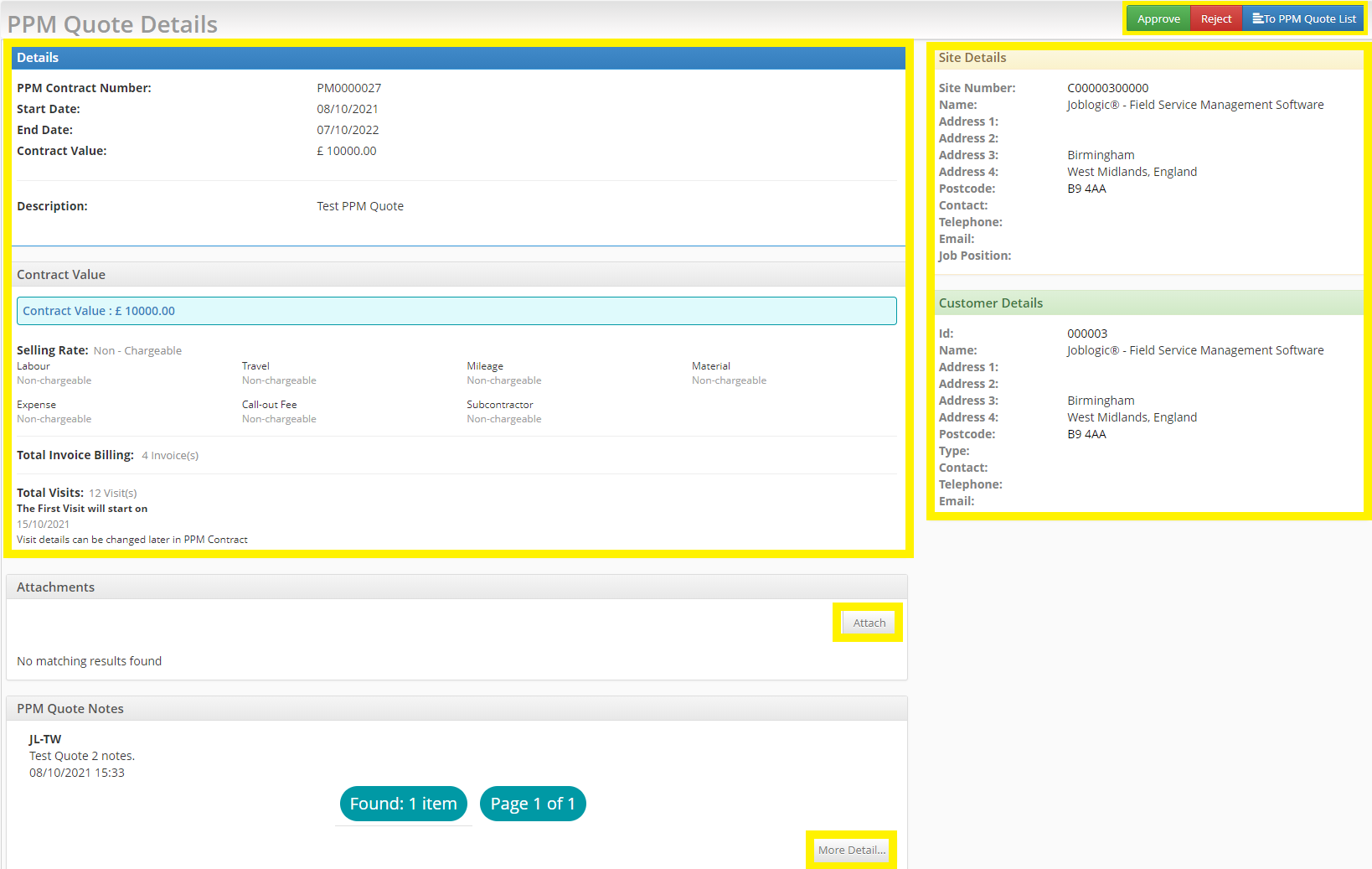 Upon reviewing the details, the customer can Approve or Reject the PPM Quote by selecting the relevant options at the top of the page.
By clicking the Approve button, the customer can enter or attach further instructions before the Final Approval. Similarly, clicking the Reject button allows the customer to enter the Reason for Rejection before the Final Rejection.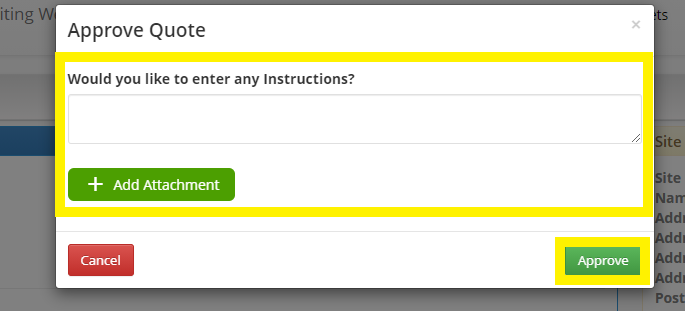 Finally, upon approving or rejecting the PPM Quote, the Joblogic back-office user will be instantly notified of the status.
---
Further Support
For further information or assistance on the above contact our Support Team on 0800 326 5561 or email support@joblogic.com. Alternatively, our Account and Project Management teams can be reached by emailing accountmanager@joblogic.com or projectmanager@joblogic.com respectively.
Publishing Details
This document was written and produced by Joblogic's Technical Writing team and was last updated on the date specified above. Be aware that the information provided may be subject to change following further updates on the matter becoming available. Additionally, details within the guide may vary depending on your Joblogic account's user permissions.
---
Was this article helpful?
---
What's Next