Release: 10th April 2019
06 May 2021

1 Minute to read
Release: 10th April 2019
Updated on 06 May 2021

1 Minute to read
---
Share feedback
Thanks for sharing your feedback!
Joblogic Web Updates
Scheduled for release 15.04.2019; please note that this date may be subject to change.
Manual Timesheet Entry
This feature has been introduced so that back-office users can manually enter timesheet information. It is also possible to edit any data sent back from the engineer's mobile app.
Within the Visit Detail screen, users will now be able to manually add, edit or remove Labour & Travel Times, Expenses, and also Parts Used & Parts Required. These manual entries may then be accepted as Job costs, ready to be invoiced.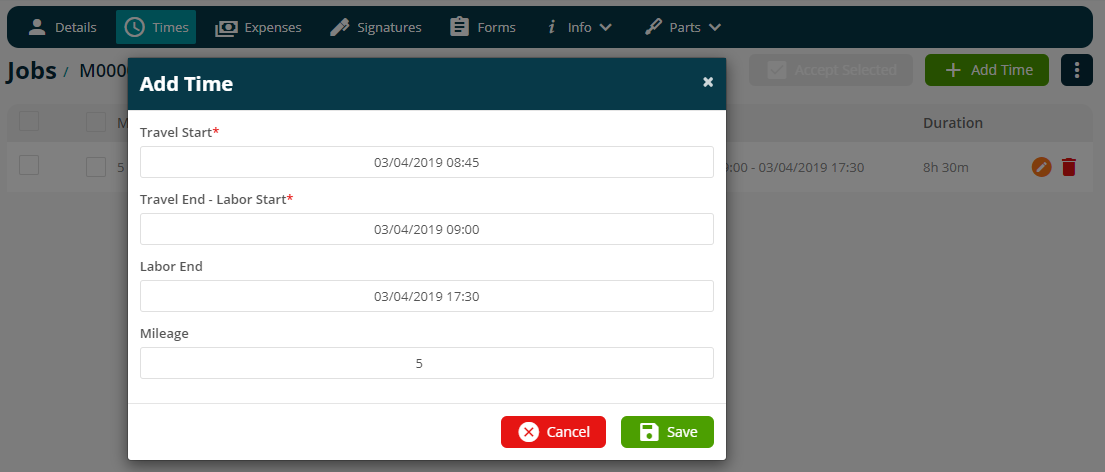 Improvements, Modifications & Bug Fixes
Improvements
It is now possible to add Supplier Credit items to Purchase Orders, so that you can keep track of when a supplier has raised a credit for you.
Assigning tags to Customers, Sites, Jobs and Quotes at the point of creation is now possible. This means you no longer need to go into the Detail page to add tags after an item is created.
When generating PDF reports (Jobsheet, Invoice, etc…) we have increased the time allowed for the report to be generated. Previously, an error message could occasionally be displayed if the report took a long time to generate.
Various user interface and user experience improvements have been implemented across Joblogic.
Bug Fixes
An issue has been resolved which caused difficulty when searching for the default site of a customer using the search text box.
An issue has been corrected where the matrix/table input would display incorrectly within Custom/Dynamic Forms when viewed from a Mobile device with a smaller screen.
An issue has been corrected within Engineer Tracking, where occasionally the message "For this to work please add Engineer address or company address" would incorrectly be displayed if we were unable to determine the engineer's location. A 'No Signal' message shall now be displayed.
An issue in which it was occasionally not possible to delete a Tag (it would still remain in the list even after deletion) has been resolved.
---
Was this article helpful?
---
What's Next