Release: 16th March 2020
30 Apr 2021

1 Minute to read
Release: 16th March 2020
Updated on 30 Apr 2021

1 Minute to read
---
Purchase Order Search – All Tab
A new tab has been added to the purchase order search screen to show all purchase orders.

Working Hours
Priorities can now be set to only consider business hours, meaning time outside of working hours will no longer be included when figuring out remaining priority time.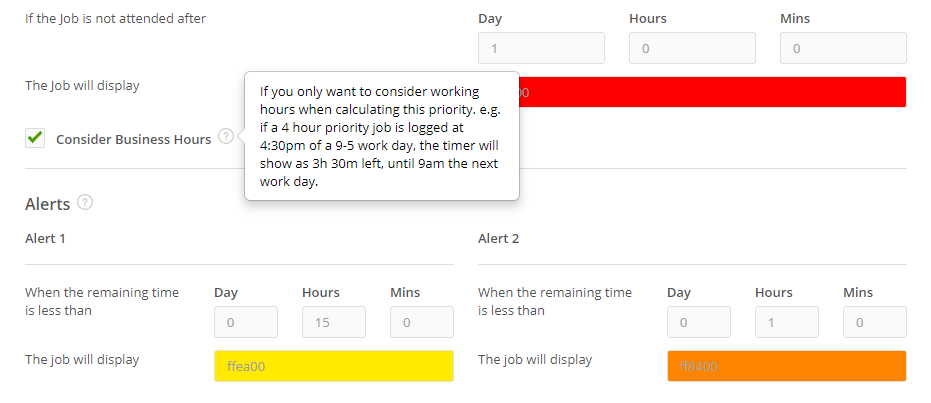 Invoice Summary – Job Invoice History
An Invoice summary has been added to the job invoice history screen.

Improvements, Modifications & Bug Fixes
Improvements
Purchase Order Lines – Internal change for reporting to link Job cost lines with PO Lines.
A new tag, Job Type – @@JobTypeDescription@@ has been added for Invoice Templates.
Jobsheet – Visits with Aborted or Cancelled statuses can be excluded by placing the following tags anywhere on the document:
Exclude Aborted Visits – @@VisitsExcAborted@@
Exclude Cancelled Visits – @@VisitsExcCancelled@@
Jobsheet template new tag: @@PartUsed_Number@@
An error message for generating the same PPM Invoice twice has been made clearer.
We have changed the default order of Purchase Order search.
SMS messages being sent internationally from the system have been improved to take advantage of the recent changes to saving phone numbers in the system.
We have added Postcode column in Quote/Invoice/Related Quote search.
Many tables in the system have been moved to the new style of table.
Bug Fixes
An issue has been fixed with job search where ordering by priority wasn't working as expected.
Dashboards in the menu list on the sidebar will only show the ones that the user has access to.
We have fixed a bug where the 'Add' button was not showing on the Asset list screen, regardless of granted permissions.
We have fixed a small bug with the Tax Code not changing when part is changed.
Deleting the customer will now correctly remove any PPMContracts.
---
Was this article helpful?
---
What's Next