Release: 17th December 2020
21 May 2021

1 Minute to read
Release: 17th December 2020
Updated on 21 May 2021

1 Minute to read
---
Part Deliver Purchase Order Lines
It is now possible to part deliver Purchase Order lines.
When delivering, a new option to record the delivered quantity is available.
The Quantity Delivered will display the quantity for the PO item.
This can be increased or decreased (depending on if you are receiving more or less than the original PO item line).
Entering an increased quantity will update the original line to the new quantity.
Entering a decreased amount will update the original line to the new quantity and create an additional line for the remainder.
This option is only available when receiving against an individual PO item.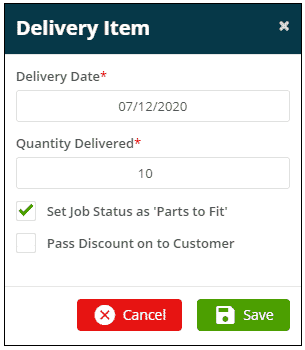 Improvements, Modifications & Bug Fixes
Bug Fixes
Resolved paging issue for Gas Cylinders/Log Book.
Fixed line order on PO when printing.
An issue with number of customers/sites on map view has been resolved.
We have issued a fix for duplicated assets on jobsheets.
There has been a fix for map pin popups not being able to be dismissed on mobile devices.
We have fixed an issued where customer/site name were not showing when viewing assets in grid mode from site asset page.
We have fixed an error when paging an empty list.
Scheduler date select arrows fix for firefox.
User can now search from table instead of ready-data when loaded for suppliers when creating stock purchase order.
We have fixed an issue with reference number displaying incorrectly du to being long in related assets.
We have removed duplicated success message for pay bands.
We have fixed some special character on Dynamic Dashboards Name.
We have resolved an issue where "Payment received" emails would display currency code (i.e. GBP, USD) instead of the correct symbol (i.e. £, $).
An issue has been resolved where Invoice Header, Terms and Notes tags on PPM Invoice DocX templates would always
read their values from PPM Contract -> Invoice Header section, instead of the values in the PPM Invoice itself.
Validate when xero session expired.
Improvements/Modifications
Stop overwriting contact email and phone number on exporting Xero invoice.
Added tool-tip for appointment on PPM contract visit.
@@Logbook_AssetRefrigerantCharge@@ tag in Jobsheet DocX templates will now round to the nearest 3 decimal places.
Job export now contains Site Area, Job Trade and Job Tags as an export.
Parts/Equipment that have already been created as a stock entry will now be excluded from the create stock dropdowns.
---
Was this article helpful?
---
What's Next