Release: 18th June 2020
07 May 2021

2 Minutes to read
Release: 18th June 2020
Updated on 07 May 2021

2 Minutes to read
---
Share feedback
Thanks for sharing your feedback!
New Job & Asset Detail Pages
There has been a large overhaul of the layouts of the Job and Asset detail pages. The changes extend out to the job details when viewing them on the planner as well.

You can visit our job and asset details page here..

Assets on Quotes
Quotes can now have assets assigned to them in the same way a job can. These assets will be carried over to the upgraded job.

This will allow for more detail to be recorded as part of a new quote, and ensure it's not lost when the quote is approved and work starts!
The full list of considerations are as follows:
Assets Tab on Quotes
Editing Action Required Notes
Upgrading a Quote to a Job
Printing/Sending a Quote with Assets
Quote with Assets on Portal
Addition of Quote History to Asset record
New Permissions
New Message Boxes
We have improved the notification boxes that users will be shown when performing actions in the system. These should be clearer and more obvious.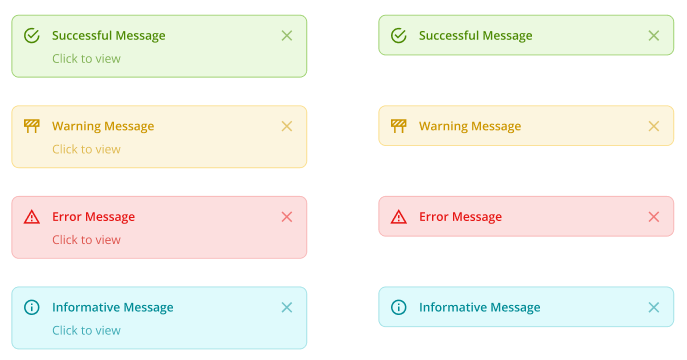 Tag Associations
Tags can now be associated with certain areas of the system and then only used in those areas.
This will mean users can create tags specific to Quotes, Jobs, Customers, Sites etc. This will allow for easier viewing and selecting of tags that only have meaning within those selected parts of the system.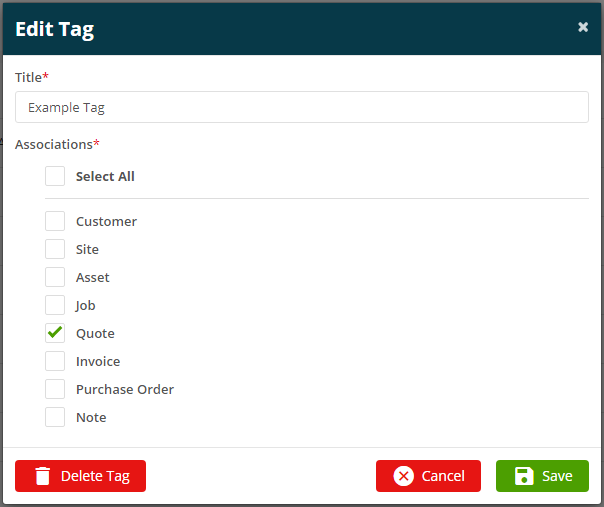 Request Limits
To resolve any potential issues with attacks to the system, we are implementing a limit on the number of times that you can request your password to be reset per day.
We will also be applying this to other parts of the system in due course.
This is part of a larger plan to reduce any potential vulnerabilities in our system.
Improvements, Modifications & Bug Fixes
Improvements
Attachments – New file type accepted, ODS.
We have added a Reactivate button to Suppliers. This means suppliers that are still in use can be reactivated after deletion.
We have added a Reactivate button to Parts. This means parts that are still in use can be reactivated after deletion.
Search filter for Settings / Electronic Forms is now saved.
Reason tags for aborting or rejecting a visit have been removed in preparation for visual improvements in the next release.
There have been improvements to Asset searching.
There have been improvements to the Quote upgrade wizard.
Bug Fixes
When allocating PPM Visits using the Planner, the 'Duration (Minutes)' value for the visit will now automatically be used to schedule a visit of the correct length.
We have fixed an issue with some of the metrics on the main dashboard where time zones were not properly considered.
PPM material costs will no longer be overridden and set to 0. Instead, they will use the selling rate as a normal job will.
An issue has been fixed with modals not being dismissed from pressing the back button.
Various interface fixes/improvements.
We have fixed an issue where forms that aren't ready could be downloaded.
An issue has been fixed with inactive selections from dropdown boxes being removed when undoing the edit screen twice.
There have been fixes for a couple of issues when adding new manual form item.
We have fixed an issue when selecting permissions for staff users whilst trying to assign roles.
An issue has been resolved with multiple pages not working on some screens.
"Upgrade Quote" permission has been fixed.
---
Was this article helpful?
---
What's Next