Important Updates: 1st December 2020
21 May 2021

4 Minutes to read
Important Updates: 1st December 2020
Updated on 21 May 2021

4 Minutes to read
---
1. Introducing the 'Invisible Work' Done by our Engineering Team
As you're aware, we have a regular release scheduled every two weeks and for your convenience, we track all releases via regularly published release notes. New releases to the software usually include obvious functionality updates, however, our busy Development team spend approximately 30% of their time working on things usually invisible to our customers, such as technical debt, performance improvements and future-proofing.
Keeping up with external changes
Our huge engineering team (currently a team of 50 working around the globe) are constantly monitoring any upcoming updates to Microsoft, iOS, Android and the systems which Joblogic integrates with. This is to ensure that the software remains working smoothly despite the changes to the third-party platforms. To give you an example – recently we spent 2 solid months working on an upgrade of our core development environment – Microsoft .Net 4.6 to Microsoft .Net Core. There's also a planned December update for iOS, and our "mobile app dev team" are already busy working behind the scenes to ensure that the application remains compatible without our users noticing!
Independent improvements
Aside from the platforms, we have recently made some changes to stabilise Joblogic even further which resulted in a performance improvement. The structure of the database has also undergone a number of improvements to make it even more resilient and secure. Data is still backed-up every 10 minutes and we now have multiple databases to ensure optimal uptime of the system. Implementing these measures means that we must have continuity and remain consistent across all databases.
2. Your Data – Undelete Requests
---
! IMPORTANT: From Tuesday 1st December 2020, we will no longer be able to recover data that has been deleted by your users. It is important that you inform all Joblogic users to prevent a potential data loss to your business.
---
Our Support team receives many requests to 'undelete' deleted data. We have been supporting these requests, however, with the growing complexity of the system, after Tuesday 1st December of 2020, we are no longer able to undelete previously deleted data.
Explanation: Our number one priority as a software provider is to ensure the stability of the system. By undeleting deleted data, there is a risk that the system can become unstable, which we or you cannot afford.
Change 1 – Popup window: As our team will no longer be able to recover your deleted data, we added a few extra steps to the process to help you prevent accidental data deletion. Now, each attempt to delete your data will be followed by a popup window stating that the delete action is irreversible and it will ask you to tick the box to agree.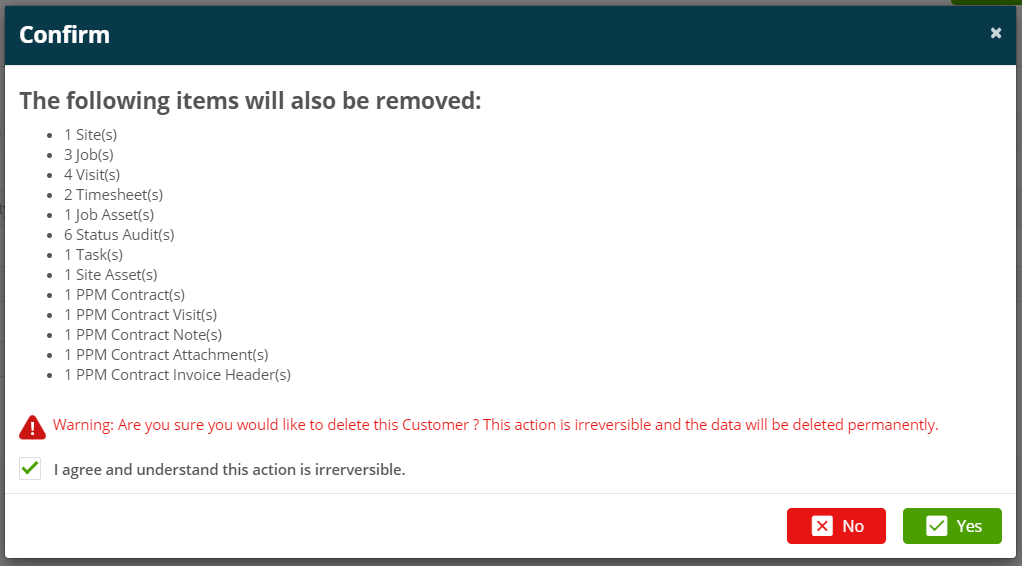 Change 2 – Advanced permissions: We have added advanced permissions to limit the number of users who can delete data. We strongly encourage you to review these permissions by visiting Settings > Staff.
Please note, for your security and compliance, we audit all deletions so that we have traceability of the delete actions initiated by our customers. By keeping an audit, we can prove to our users that the data was deleted and it is not randomly missing. We will not be able to recover this data.
3. Accounts Exports and Reversal of "Passed to Accounts"
---
! IMPORTANT: From Tuesday 1st December 2020, we will no longer be able to revert exports generated by your users. It is important that you inform all Joblogic users of this change to prevent any potential operational issues to your business.
---
Some of our customers manually export their data as CSV which can be useful when importing into third-party systems, such as accounting packages. On occasion, the export is run accidentally and the Joblogic team is requested to reverse the export so it can be re-run. For the reasons already mentioned above, as of Tuesday 1st December 2020, we are no longer able to process these requests.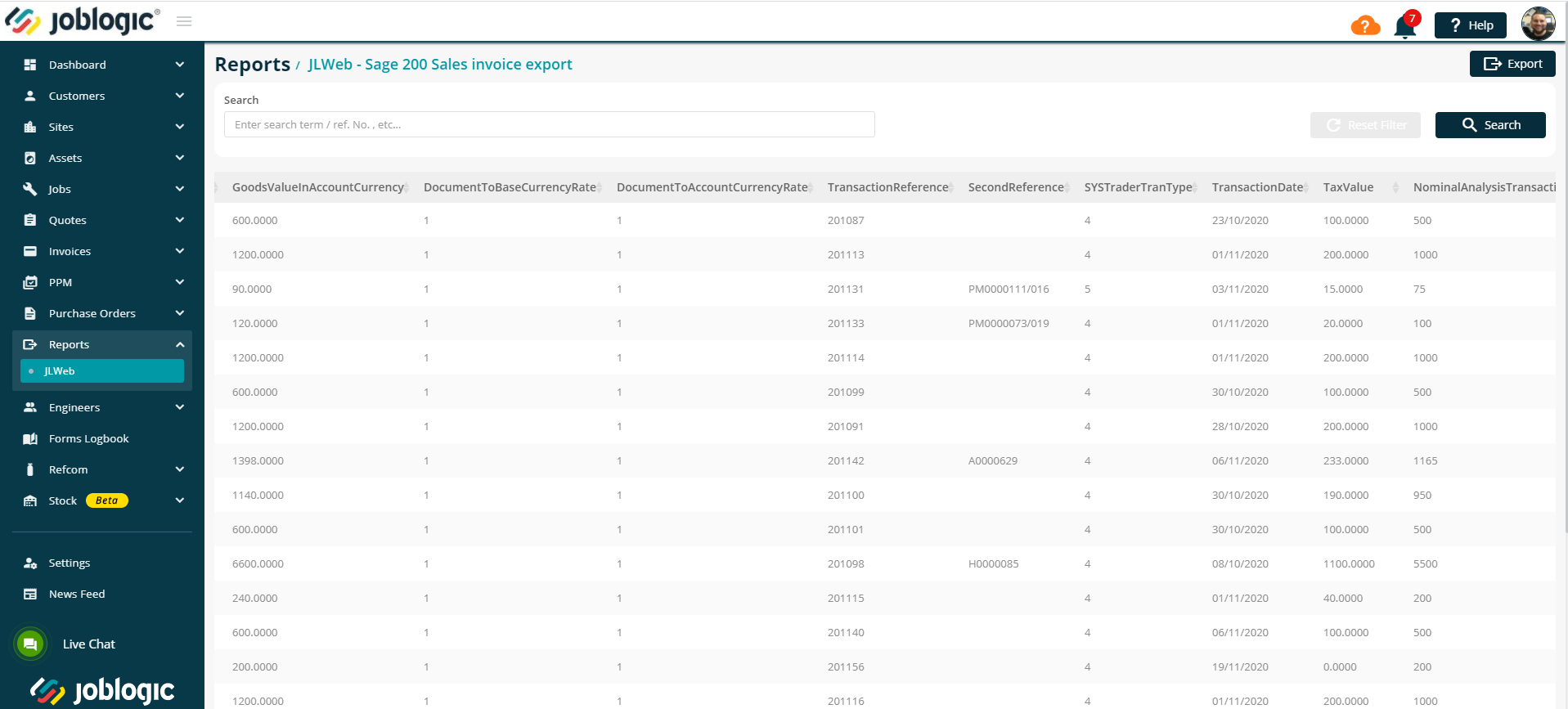 Change – Popup window: In order to prevent users from accidentally exporting data, we have introduced an additional popup window where a check box needs to be ticked in order to proceed.

4. Revised Lead Times for Service Requests and Custom Forms
As our customer base grows and we keep adding new features to Joblogic, there are growing demands for continuous testing and more preparation around release cycles. With the increasing development demands, we have had to revise our SLA for delivery:
For custom forms and output reports, the SLA is now 8 weeks from the invoice payment date (please note, it will not be from the date of the submission by a customer).

For new CSV exports or changes to existing CSV exports, the SLA is 6 weeks from the invoice payment date.
With the above in mind, if you have any upcoming requirements in relation to custom forms, dashboard or report export, please allow sufficient time to ensure that your deadlines are met as the demand is growing. We are keen to improve these timescales and offer a faster turnaround by heavily recruiting additional development resources. We hope to reduce the current lead times for both forms and reports very soon.
Action Required
---
We highly recommend that you remove the 'delete data' permissions for the majority of your users. This is to ensure only selected staff can perform this action, as any deleted data is not recoverable.
---
We know that the changes outlined in this article might be perceived by some of our customers as an inconvenience. However, we hope that the majority of our customers appreciate that stability and integrity remain the top priorities for us as a service provider.
We'd like to thank you for your continuous support and should you have any additional questions related to these changes, please do not hesitate to contact our Support team at support@joblogic.com, via the live chat or simply give us a call on 0800 326 5561.
---
Was this article helpful?
---
What's Next