Release: 1st November 2019
05 May 2021

1 Minute to read
Release: 1st November 2019
Updated on 05 May 2021

1 Minute to read
---
Share feedback
Thanks for sharing your feedback!
Joblogic Latest Releases
Scheduled for release on 11.11.2019. Please note that this date may be subject to change. Our releases will now be delivered once every two weeks as opposed to once a week. This is to give our customers more time to get up to speed with a new release.
Visit Times
We have placed a limit on the date and time difference between the start and end durations of costs that can be accepted. You will be advised if this occurs during auto-acceptance or even when trying to manually accept costs like this. The hope is to reduce the amount of incorrect data being logged accidentally, whilst also reducing the impact of accepting an incorrect set of costs.
1). A warning will appear for costs that could not be automatically accepted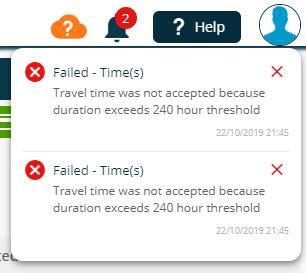 PPM Planning – Due Date
A due date set against a PPM visit will now allow a time to be set – this will help when you need to select a specific time that an engineer needs to be on site.
2). Due date time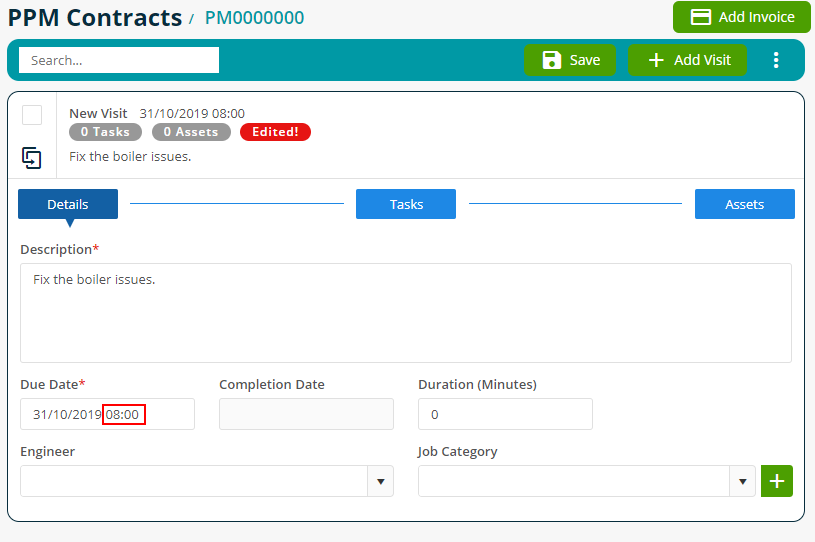 Improvements, Modifications & Bug Fixes
Improvements
PPM visits in portal will now be ordered by due date, from oldest to newest.
The customer dashboard has been altered slightly so that labels no longer look like buttons with interaction.
Job visits will now be split into pages. This should make navigation of jobs with many visits far easier.
When trying to enter an order number, the system will warn you if this already exists.
Bug Fixes
An issue with users getting stuck on the planner page has been fixed.
Users will now always be prompted as to whether or not they would like to set the status of the purchase order to "Sent" when trying to print or download purchase orders.
Further improvements have been made to job sheet printing with regards to assets.
For Refcom gas cylinder searches, the supplier filter will now show the proper suppliers when searched.
We have provided a fix for pinpointing an exact location for some job addresses on 'Live Tracking Map'.
---
Was this article helpful?
---
What's Next