Release: 22nd September 2020
30 Apr 2021

1 Minute to read
Release: 22nd September 2020
Updated on 30 Apr 2021

1 Minute to read
---
New Job Quick View
On the "All Jobs" search screen users will now notice a small eye icon. Clicking this will open up a side panel with lots of helpful information to use at a glance. This will help save time and clicks allowing users to easily see all the important information about a job whilst staying on the same page.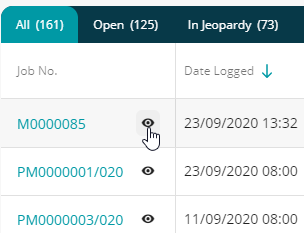 Attachments and Thumbnails in Parts & Equipment
Parts and Equipment can now have attachments added to them, if the uploaded attachments are supported images then they can be set as a thumbnail
Thumbnails will be shown on the main detail page as well as a new grid view that you can switch to when searching.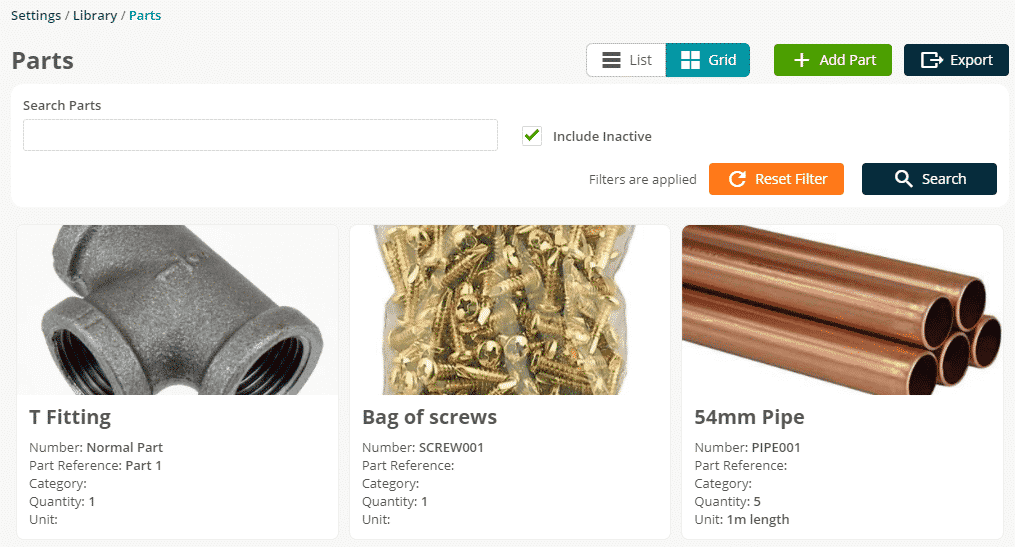 Improvements, Modifications & Bug Fixes
Improvements
There have been updates to the wording of placeholders in dropdown boxes for consistency across the system.
We have added validation for Job Task Summary.
The latest table styling has been applied to Company Setup > Business Hours.
In PPM Job summary, the layout has been optimised for tablets and smaller screens.
Default templates will be removed against the appropriate entities when hidden.
When searching notes, the main tag can no longer be unchecked. i.e. if you're searching job notes, the Job tag can no longer be unchecked.
Bug Fixes
An issue has been fixed where part numbers were not being pulled through to POs created via the upgrade quote wizard.
We have fixed an issue with contacts not being automatically added to quotes logged from the mobile application.
We have fixed an issue in the "Add Selling Rate" popup when double-clicking on the grid to enter a selling rate value.
We have resolved an issue when using Report/Edit on the Dynamic Dashboard while using Safari on an iPad. Buttons no longer disappear after you first load or refresh the page.
In the Upgrade Quote Wizard, material descriptions will now be truncated to fit neatly inside the area available.
We have fixed an issue with suspended selling rates showing in selection boxes.
We have resolved some layout inconsistencies when using the Safari browser.
Users can no longer add a job category when viewing PPM contract visits in read-only mode.
---
Was this article helpful?
---
What's Next