Release: 23rd July 2019
06 May 2021

2 Minutes to read
Release: 23rd July 2019
Updated on 06 May 2021

2 Minutes to read
---
Share feedback
Thanks for sharing your feedback!
Joblogic Web Updates
Scheduled for release on 29.07.2019. Please note that this date may be subject to change.
Adding Images to Custom Forms and Reports
It is now possible to add image-based questions and inputs to your custom forms and reports. This means that you can enable your engineers to attach photographs to forms as well as dynamic report outputs.
Custom Form: 'Add Image' Section
Dynamic Report: Image Sections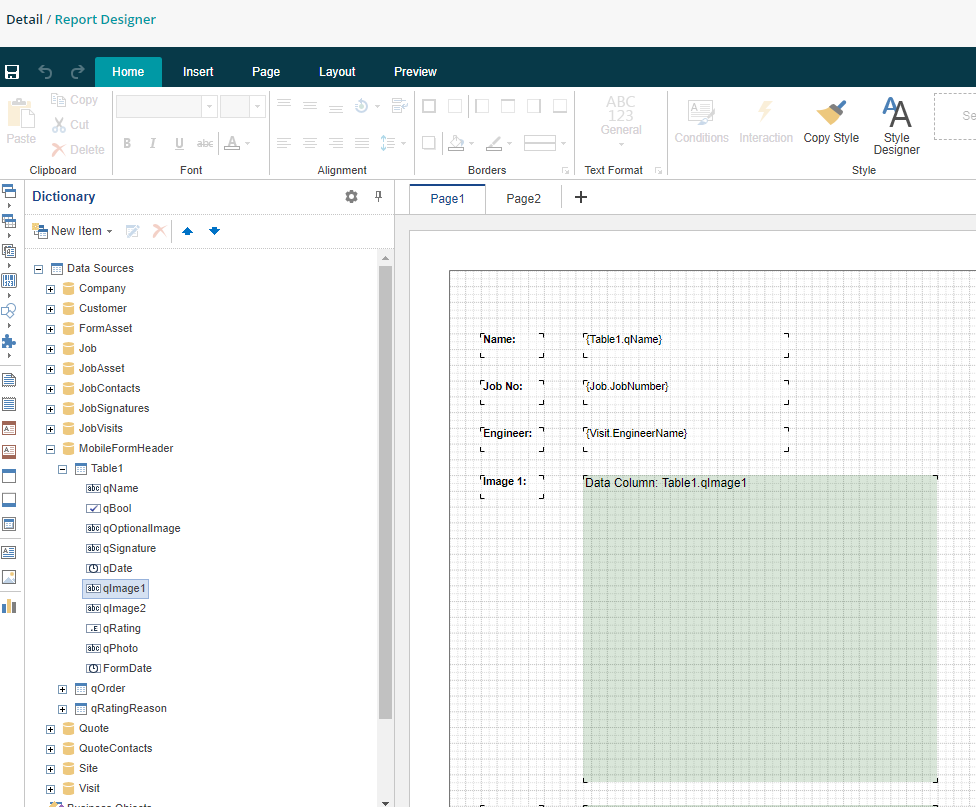 To Add an Image into a Dynamic Report:
Click into the Insert tab on the top bar, and then press the image icon.
Click on the report grid to open the image pop-up box.
Click the 'Data Column' tab inside of the pop-up box, then locate the data source for your image (the name will be of your choosing when adding it to the custom form).
Once your form is fully published and engineers can complete it via their mobile device, you will be able to see the attached images via the Logbook (https://go.joblogic.com/Logbook).
Dynamic Report with attached photograph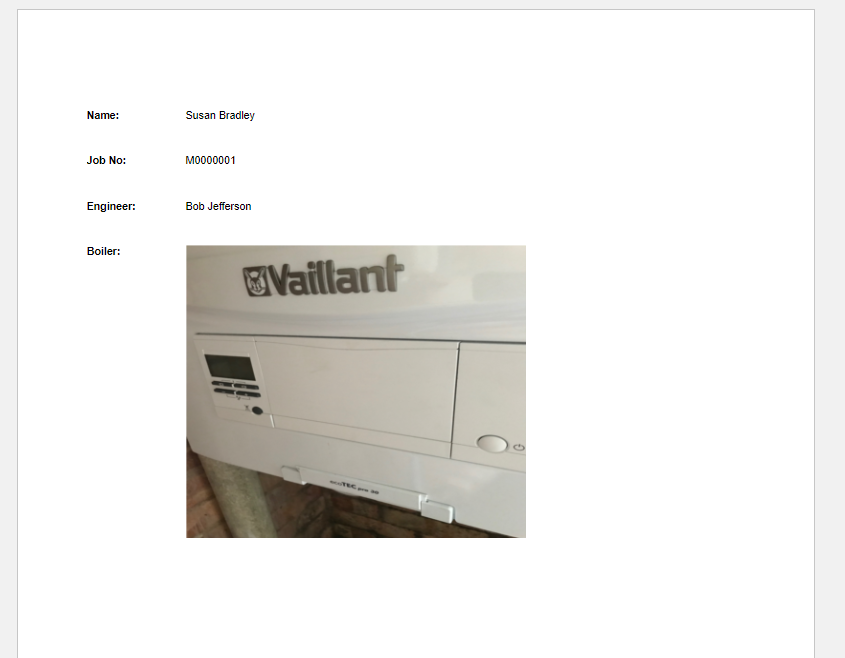 Improvements, Modifications & Bug Fixes
Improvements
If engineer location tracking is enabled and the engineer does not have any location information recorded, we will now automatically place their map marker at their saved addresses.
We will now also display the time that a live engineer tracking location was recorded, which will enable you to see what time the engineer was present at the map marker.
We have added localised names for various terminologies:

Pay Bands = Labour Rates
Selling Rates = Billable Rates
Bug Fixes
An issue has been fixed whereby clicking the hyperlink for a visit or job within a PPM contract would open two tabs of the Job Detail page. This will now correctly only open one new tab.
Display issues where the status of costs in the PPM contract details screen have been fixed. The costs tab would originally show as 'In Draft' however this has now been resolved.
An issue has been fixed regarding transparent sections of an uploaded company logo. Previously transparent sections would be replaced by a black background – this has now been resolved.
We have fixed an issue whereby PPM jobs would not retain their job category colour when being moved onto the Planner. They would instead revert to the default green colour. PPM jobs will now retain the correct colour.
Users will now be able to assign different library items to other items (for example, Nominal Codes for Invoice Lines). This can be done even if the user does not have the relevant 'View Detail' permissions.
An issue regarding invoice lines has been fixed. Originally, when deleting an invoice line, if the user attempted to edit the line which takes its place, it would cause Joblogic to display an error page. This has now been resolved.
---
Was this article helpful?
---
What's Next