Release: 24th April 2020
30 Apr 2021

2 Minutes to read
Release: 24th April 2020
Updated on 30 Apr 2021

2 Minutes to read
---
Share feedback
Thanks for sharing your feedback!
Purchase Order Nominal Codes
Purchase order items can now have nominal codes added against them. To allow this, whilst not conflicting with your existing sales nominal codes, we have added the following nominal code types: "Sales" and "Purchase" Nominals.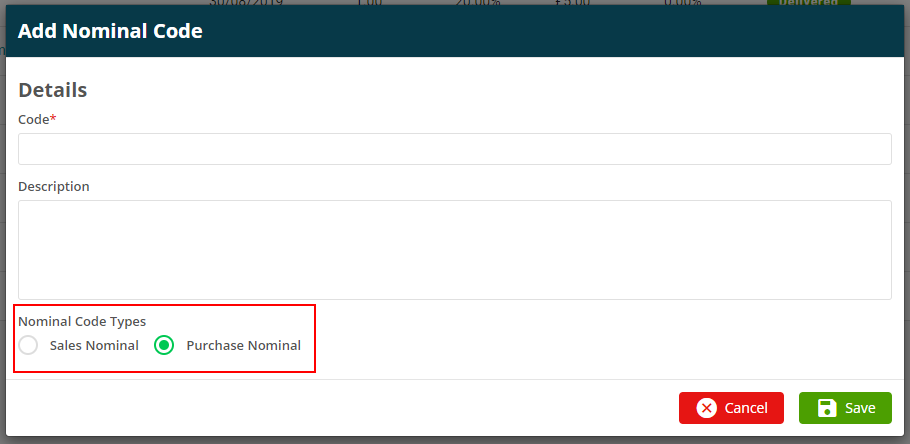 Full Release: Route Scheduler and Form Builder
After building upon these features and adding some further improvements, we have decided to take the Route Scheduler and Form Builder out of beta. We will, however, continue to work on these features as we gather more feedback from our customers.
Purchase Order and Supplier Notes
We have added the ability for notes and attachments to be added against purchase orders and suppliers.

Improvements, Modifications & Bug Fixes
Improvements
In the Planner, "Time Slots" have been changed to every 30 minutes to enhance performance. Improvements have also been made to the aesthetics and menu navigation.
We've added 2 more search fields for Purchase Order: "Owner" and "Raised By".
A "Custom Reference" field is now available for customer and site data sources in custom forms.
Assets can now be searched by "Suspended" status.
Notes from mobile with multiple attachments will now merge all attachments into a single note.
Improved QuickBooks integration (for both UK and US customers).
We've increased service type search results in the dropdown to 50 records and have added a footer note.
Forms Logbook: By default, the results will now be sorted by form date with the most recent displaying first. To reset your settings, open the small cog in the top right and press the orange "Default" button.
Supplier search: Ordering by address has been improved and will involve more than just "Address Line 1".
Trialling users will now be directed to the "Explore Joblogic" page upon login.
We've added a new "Edit/View" permission for the Route Scheduler.
Both the "Nominal Code" and "Description" will now display for each line in "Standard" and "Customer Grouped Invoices & Credits", as opposed to only the "Nominal Code". This brings it in line with "PPM Invoices & Credits".
Amendments have been made to the maximum attachment size allowed in the system.
Bug Fixes
We've fixed an issue where forms weren't being deleted if a job was deleted – this was causing the form's search function to break without showing an error.
Timesheets will no longer show jobs from the future.
We've added a fix for "Service Type Imports".
We've resolved an issue with "Service Type" duration when adding assets to a visit.
We've fixed an issue with customer deactivation.
"Purchase Order Search": We've fixed a bug where the calculation of invoice statuses was causing conflicting search results.
We've fixed a problem with some icons on search screens.
---
Was this article helpful?
---
What's Next