Release: 8th May 2019
07 May 2021

2 Minutes to read
Release: 8th May 2019
Updated on 07 May 2021

2 Minutes to read
---
Joblogic Web Updates
Scheduled for release 13.05.2019; please note that this date may be subject to change.
Outbound Email Audit
We have added the ability to see the history of all emails sent via Joblogic, this can be accessed by visiting Settings -> Outbound Emails or by clicking here.
Global Outbound Emails History

This history can be filtered using various criteria, such as: To Address, Subject, Status and Delivery Date.
The current status of each email is displayed against the record, there are a number of statuses to consider:

Sending – Email is currently being sent from Joblogic to our email provider, ready to be forwarded to your intended recipient.
Sent – Email has been successfully sent to our email sending provider and is now in the queue to be forwarded to the intended recipient.
Failed – Email has failed to send to our email sending provider and will need to be manually re-sent by your staff.
Processed – Email has been picked up from the queue and will soon be forwarded to your intended recipient.
Delivered – Email has been successfully delivered to your intended recipient.
Bounced – Email has failed to be delivered to your intended recipient.
Opened – Intended recipient has opened the email from their inbox.
Clicked – If email contained a hyperlink to another page, for example an Invoice portal link, this means that the recipient has clicked this hyperlink.

Each email record also contains a Detail pop-up, which can be accessed by clicking the eye icon (left-hand side of each row). This will show you further details about the email (such as main body contents) – along with details about when the email was opened or any hyperlinks clicked.
Outbound Email Details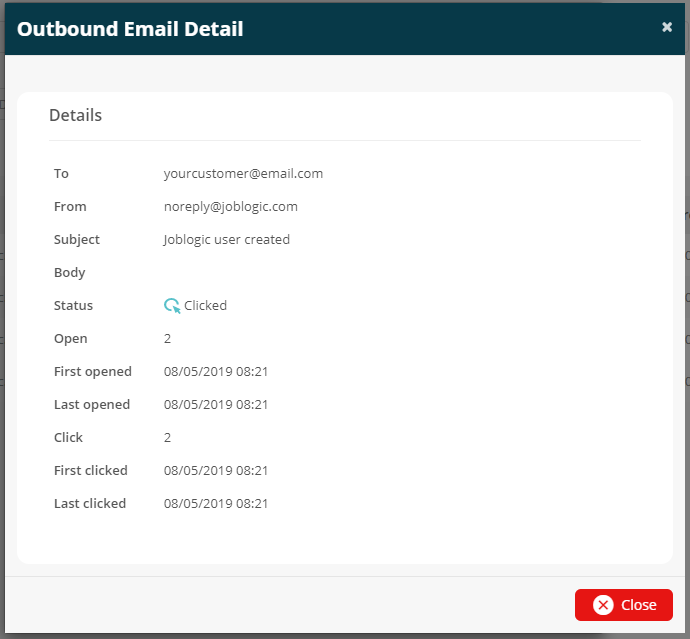 A new Outbound Emails sub-tab has also been added into theJob, Quote and Invoice Detail screens. This can be found within the History tab drop down list.
This screen works the same as the one found in Settings, but is filtered to show only emails relevant to the individual Job, Quote, or Invoice.
Job Detail – Outbound Email

Modifications to Pay Band Logic
When deleting a Pay Band, we will now show a confirmation message that it will be removed from Company and Engineer pay band times, and also all associated selling rates.
All related pay band times will now be removed when a pay band is deleted.
Improvements, Modifications & Bug Fixes
It is now possible to filter Jobs on the Planner via Owner, Category, Type and any assigned tags.
Asset Detail page will now show the Item Does Not Exist page, rather than the generic error page, when an Asset which has been deleted is accessed.
---
Was this article helpful?
---
What's Next