Release: 9th December 2019
04 May 2021

1 Minute to read
Release: 9th December 2019
Updated on 04 May 2021

1 Minute to read
---
Share feedback
Thanks for sharing your feedback!
Joblogic Latest Releases
Scheduled for release on 09.12.2019. Please note that this date may be subject to change.
No Access
The ability to log 'No Access' for visits will now be enabled for everyone. Any 'No Access' entries can be found against the job or visit detail, under the 'Info' tab.
1). Where to find the new tab: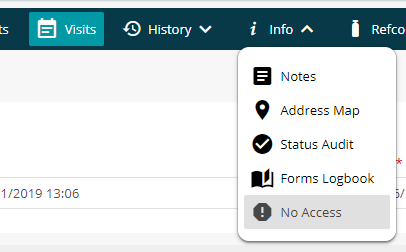 Job Portal Link
When emailing an invoice, you will now have the option to include the Job portal Link.
Changes to contacts on Portal
When creating a Job in the Portal, the User is now only able to select existing contacts from the Site and Customer. This will prevent duplicates from being logged as was being reported previously.
Improvements, Modifications & Bug Fixes
Improvements
The 'Abandon Travel' visit status will now show correctly in the system and will be visible in the visit status audit.
Contact events have been rearranged so it should match closer to the lifecycle of an actual job.
Extra fields have been included when searching for assets in the 'Add Leak Check' section.
We have added extra asset details to the PPM Schedule screen.
We have updated our import template for site assets to be clearer for some columns.
Bug Fixes
Performance improvements have been made to the planner when batch deploying visits.
Various small issues have been resolved with the dynamic report designer.
Fixes for various errors have been made inside the custom form builder, including an error that would stop new forms from saving correctly.
When renewing a PPM contract the total was sometimes showing as incorrect. This has been fixed
Edge browser specific UI issue with job search has been resolved.
In the PPM Schedule, sometimes the week view would show numbers incorrectly. This has been resolved.
Visits can no longer be updated to have empty dates.
PPM Invoices will now get the most up to date address if it has been altered in the system.
---
Was this article helpful?
---
What's Next