Renewing a PPM Contract
25 Aug 2021

1 Minute to read
Renewing a PPM Contract
Updated on 25 Aug 2021

1 Minute to read
---
Share feedback
Thanks for sharing your feedback!
Introduction
Once a PPM Contract has run its course, the Joblogic PPM Module gives you the option to renew the contact with the same or new details.
This user guide gives you a step-by-step breakdown on how to Renew a PPM Contract.
---
1. From the left navigation pane, click the PPM dropdown menu and select 'All PPM Contracts'.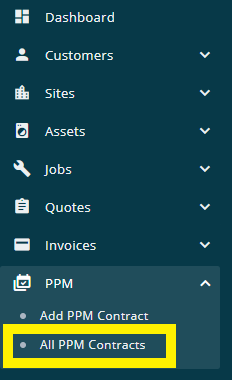 You will then be directed to the PPM Contracts page, where you can see the whole list of all the PPM Contracts.
2. Now click to open the PPM Contract that you wish to renew.

3. On the main details page of the PPM Contract, click the 'Renew Contract' button from the top right.

You will now be directed to the 'Renew PPM Contract' page with details populated as per the previous contract. You can choose to renew the whole contract with the same details, or to make changes to certain aspects.
For example, you can change the Default Amount per Visit if it's a Fixed Price contract.
There is also an option to roll on the visits, and for contracts using the invoice billing type you can also roll on the invoices.
The roll-on amount refers to the amount of time units selected (day, week, month). For example, if you select day and 365 as the amount. This will roll on the visits or invoices by 365 days, 1 year from the original visit or invoice of the previous contract.

4. Once the required changes have been made, click 'Save' and 'Confirm' the changes.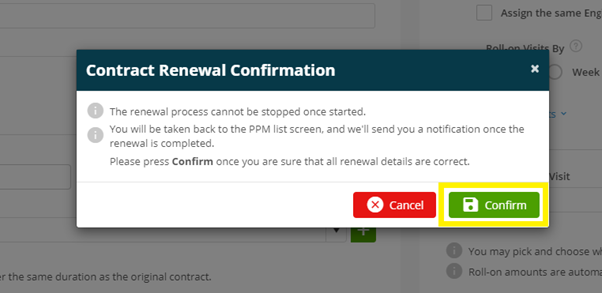 5. Upon confirmation, you will be guided back to the All PPM Contracts page and the system will notify you once the contract renewal is completed.

---
Further Support
For further information or assistance on the above, contact our Support Team on 0800 326 5561 or email support@joblogic.com. Alternatively, our Account and Project Management teams can be reached by emailing accountmanager@joblogic.com or projectmanager@joblogic.com respectively.
Publishing Details
This document was written and produced by Joblogic's Technical Writing team and was last updated on the date specified above. Be aware that the information provided may be subject to change following further updates on the matter becoming available. Additionally, details within the guide may vary depending on your Joblogic account's user permissions."
---
Was this article helpful?
---
What's Next